The 9 Box Matrix main objective is to support and enhance talent management in companies.
In case you are not familiar with it yet, it is a visual tool that features squares representing the performance and potential of each employee in the company.
Within the organization, it is a solution widely used as a basis for creating a meritocracy model for the company. In this way, it facilitates individual assessments and important decision-making, such as future management leadership.
Are you interested in how to use the 9 Box Matrix in practice? Keep reading and find out more!
Why use the 9 Box Matrix?
The Nine Box Matrix is ​​a visual and interactive tool that allows for greater dynamism in management. Within the company, the 9 Box Matrix can be used by the Human Resources department and also by leadership, contributing to decision-making.
This is because the characteristics of this matrix facilitate and improve choices that are often complex processes. Some decisions simplified with the use of the Matrix are:
promotions;
bonuses;
trainings;
layoffs;
salary increase;
talent retention.
Thus, it is possible to assess the performance and potential of professionals, taking into account aspects such as skills, behavior, results and capabilities.
In addition, using the 9 Box is a way of finding your company's true talents, focusing on new leaders for the organization's succession planning and people management.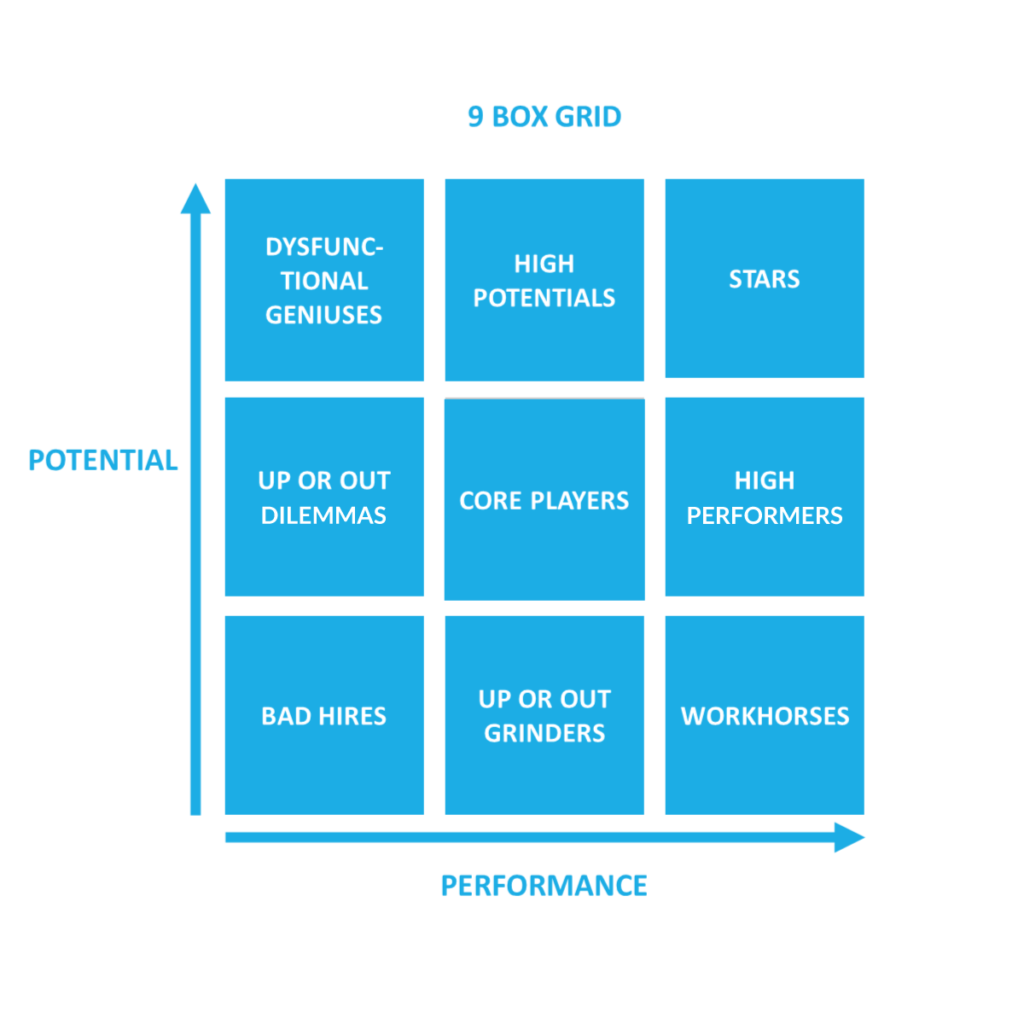 This function is developed by reviewing the previously analyzed performance indicators.
In this way, the Matrix is ​​essential, as it helps to qualitatively develop and measure the performance of each employee, which is usually a laborious process. Acts as a facilitator of analysis and growth of people within the organization.
The Matrix functionality and simplicity enhance its benefits, which are:
ease of use;
short-term results;
support for teamwork;
assistance in dialogue between leaders;
development of criteria and expectations;
opportunity for discussing performance;
allows the creation of individual development plans;
identifies individual needs for team development.
In STRATWs One a customized and automated 9 Box Matrix ​​is provided, contributing to an even more strategic HR in the analysis of the company's talents. Learn more!
How to build a 9 Box?
You can use a performance management software tool, or you can create your own Matrix using spreadsheets. In practice, digital solutions manage to deliver a more automated and easily customizable view.
However, if this is your first contact with the Matrix, it may be practical to build it in a spreadsheet or use a ready-made one.
Step by step guide to creating your 9 Box Matrix
First, create three rows, which refer to the employee's potential, and name them from top to bottom as follows:
H – high;
M – medium;
L – low.
Then, create three columns. They indicate performance. From left to right, named they:
1 – below expectations;
2 – meets expectations;
3 – exceeds expectations.
Once the structure is built, using the Matrix becomes very intuitive.
The person responsible for the individual analysis will place the name of each employee in one of the nine squares, according to their performance in the current role and their potential to improve and be promoted.
Thus, with the matrix in place, it will be easier to identify people who have the potential to move up in the board and the organization, while also visualizing those who are not meeting expectations.
In this way, leaders will be able to understand the evolution of each team member, creating an action plan to change the situation or even make necessary decisions regarding employee separations, if required .
You may also be interested: Effective team management: 6 tips to boost your employees' performance
How to implement the Matrix?
It is important to have leaders with experience in performance evaluations lead the Matrix implementation. Those responsible must understand the construction and application. Also, employees need to be well instructed to clearly understand how the assessment works and why the tool is being used.
Therefore, do not forget to communicate effectively with the entire team. In addition, it is important to have defined criteria for evaluating each category and standards that employees must achieve.
In this way, you and your team can avoid subjective judgments and evaluations. The criteria help prevent injustice, increase assertiveness and ensure that the team accepts the process with less apprehension or disagreement. The most important thing is to be objective and transparent.
And, remember, there is no point in using 9 Box Matrix without providing feedback! It is a crucial part for development.
The frequency of the evaluation varies from company to company, but it is important to maintain a routine to monitor the development of employees based on the feedback given by the leaders.
Next steps
When used correctly, the 9 Box Matrix and other performance evaluation tools contribute to the strategic management of successions and the career plan for professionals in your company.
If you want to recognize your organization's talents and ensure successful promotions, then rely on the help of technology. A strategic planning system with visual resources, helps improve your business results.
In addition, a business management system allows for integrated monitoring of company performance, contributing to effective decision-making.
One software that offers all these features is STRATWs One, which helps with centralized and efficient management of the entire team.
Request a demo right now and check it out: